Our services focus on the academic aspects of success for all students who enter our center. This is accomplished by providing students with an array of different services:
Academic Assistance and Tutoring Centers (AATC)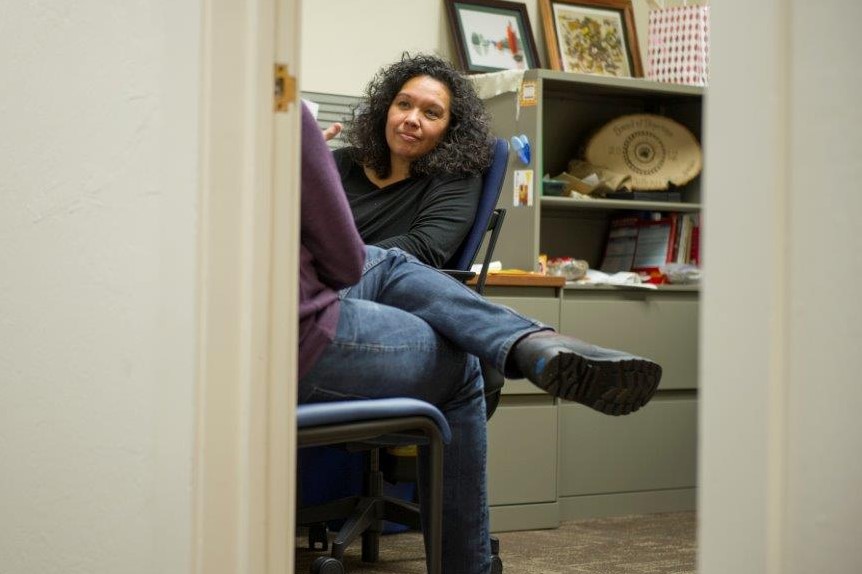 AATC provides tutoring services in Mathematics, Biology, Chemistry, Physics, Statistics, Economics, Engineering (including MAE and Python), and writing! You may schedule a tutoring or writing appointment, or Spring quarter virtual drop-in appointments are available. Schedule is available on the AATC website.
AATC professional instructional staff offer classes, workshops, and office hours, and individual writing appointments.  To support their services, 220 undergraduate tutors will provide individual tutoring sessions in over 40 math and science courses and 200 courses in writing across the disciplines. Schedule tutoring appointments to ask questions and practice problems in:
The Native Nest partners with AATC and can provide free tutoring. Please email Michelle Villegas-Frazier at mavillegas@ucdavis.edu or Dr. Deserea Langley at drlangley@ucdavis.edu for additional information.
AATC Writing Specialist Ariel Loring is holding hybrid drop-in writing support for Native Nest students every Thursday from 2:00-3:00 p.m. You can choose to attend in-person in the Native Nest or virtually on Zoom. The Zoom link is https://ucdavis.zoom.us/j/91841076178. If you're doing any writing this quarter, either for your classes or if you're applying for a scholarship or graduate school, I'd love to work with you. You don't need to bring a finished draft to meet with me— I'm here to help support you at whatever stage you are at, even if you haven't started writing yet. If you meet with me, I'll ask what you want to go over and we'll have a conversation about it. If I have feedback, I'll phrase it as suggestions, but you are the writer and you make whatever choices you want based on that feedback.
The Writing Studio will offer remote and in-person services. The Writing Studio will be open M-Th 1:00-5:00 p.m. through June 3, 2022. Aggie Gramma Guide is an online writing resource for everyone. If you have any questions or concerns, feel free to contact Ariel, the Writing Specialist, at afloring@ucdavis.edu.
NAS Department Academic Peer Advising
In collaboration with Native American Studies, our NAS Peer Advisor is a NAS student who can provide insight into specific NAS courses and can guide each individual through the course lists.
Graduate Student Advising
NAS Graduate students provide insight of what to expect in an NAS graduate program. Including the ins and out of the application process, allowing students to gain clarity for a deeper understanding within NAS Master and PHD programs. You can connect with Michelle Villegas-Frazier, Director, at mavillegas@ucdavis.edu or schedule a virtual or in-person appointment via Calendly. You can also connect with Dr. Deserea Langley, Interim Associate Director, at drlangley@ucdavis.edu or schedule a virtual or in-person appointment via Calendly.
Internship and Career Center (ICC) Advising
At NAASSC students can meet with an ICC representative to enhance their knowledge and receive the necessary encouragement and support to discuss topics relating to career, internship, and employment options.
The UC Davis Internship and Career Center conducted informational interviews with alumni. Hear from our Class of 2019 alumnus, Jacob Wilson (Laguna Pueblo):
Native American Leadership Class (NAS 98/198) Fall/Winter/Spring
The Native American Leadership class provides mentorship and space to create dialogue on student development theory on Native American Leadership in a higher education setting.